Browse our films of steam from around the world:
Latest News!
Now available to view on-line: Happy End shows oil-fired steam in action between Osnabrück and Hamburg in 1967/68, set to music by Kurt Weill
1 June 2016
>> click here for more details

Steam to Music
This is a collection of films that show life in the days of steam in many countries. The world of the railway steam locomotive is dramatically portrayed, without live sound, by creative use of music and effects.
The films cover the period from the late 1960's when steam finished in many European countries, to the 1990's before the end of steam in developing countries.
The films are in colour, usually Kodachrome, in Standard 8 or Super 8 format. They were filmed on amateur/semiprofessional equipment and have been carefully transferred and processed on professional equipment to produce faithful copies on standard DV digital video.
This web site contains descriptions and short clips from the films. Compilations on DVD of the complete films are also listed. If you would like to find out more about these films or see them on DVD, contact us.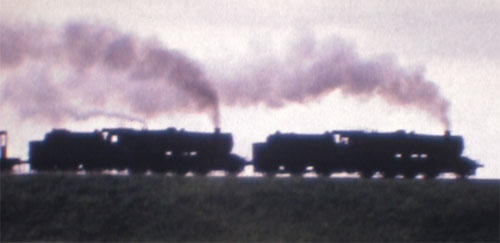 Views expressed by contributors to these webpages do not necessarily reflect the views of Steam2Music.