Sadly Mist
Two of the last steam-operated lines of German Federal Railways (DB) in February 1976, a year or so before dieselisation.
With priority being given to improving north-south railway services, the short 32km east-west secondary line between Ottbergen and Altenbeken, near Paderborn, had become a small pocket of steam operation, using 2-10-0 class 44 and class 50 coal-fired steam locomotives to carry general cargo.
The 140km line between Rheine and Emden is one of the oldest in Germany, built in 1856. It links the Ruhr area with the North Sea port at Emden. In 1976, oil-fired 2-8-2 class 42 and 2-10-0 class 43 locomotives continued in use on the 2,000-4,000 tonne bulk iron ore trains serving the steelworks of the Ruhr and on the trains carrying cars produced in the Volkwagen plant at Emden.
The last steam locomotives were withdrawn from Rheine depot in October 1977, marking the end of steam on the DB.
The film is in three parts and begins at the locomotive depot at Ottbergen, before moving on to early morning lineside shots taken in the mist near Ottbergen and Rheine. A freight train has been brought to a halt in mid afternoon, just before a summit on the steep climb from Bad Driburg to Langeland. Despite much slipping on the damp rails, the train is successfully restarted amidst great clouds of steam.
The second part of the film takes place early morning in Rheine depot where class 42 and 43 oil-burning locos are being prepared for freight work. A class 42 leaves the shed and couples up to its train.
The third part of the film shows more steam-hauled freight trains operating on these two lines.
Sadly Mist
Date of Film: 1996
20 Minutes

Places and Dates of Identifiable Locomotives:

At Ottbergen, 044 195-6 and,

at Rheine, 043 321-9 and 042 073(or 083 or 096)-2.

Perhaps it also shows 043 196-5, preserved at Salzbergen (near Rheine) as the last steam locomotive operating on DB.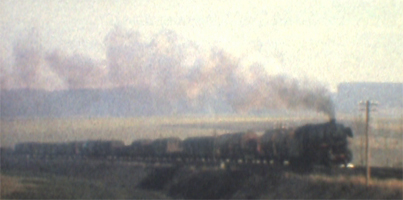 Views expressed by contributors to these webpages do not necessarily reflect the views of Steam2Music.