Browse our films of steam from around the world:

Vintage Port
The film shows a wide variety of vintage steam locomotives, aged between 40 and 90 years old, still hard at work in northern Portugal, mainly around Porto in the summer of 1970 (and also in 1973).
The first part shows scenes on the Iberian (or broad) gauge lines between Porto, Nine, Braga and Viana do Costelo, near the Spanish border. These lines have medium distance passenger or mixed (passenger and freight) services between the towns, operated by 4-6-0 class locomotives built by Henschel in 1913 and a 4-6-2 compound locomotive (No. 553, built by Henschel in 1924 and now preserved in Santarem Museum, north of Lisbon). Freight wagons are shunted by hand at the smaller stations. Rural dwellers carry livestock to and from market towns, while drivers carry, in the cabs, bottles of wine for people living along the track! Shorter distance services are operated by 2-6-4T class locomotives built by Swiss Locomotive Works in 1916-20 and by Henschel in 1929, and by 2-8-4T class locomotives built by Henschel in 1925. Regular freight services are in the hands of 2-8-0 locomotives built by Schartzkopf in 1912 and North British in 1921. These broad gauge main line locomotives are all oil-fired.
The middle part of the film shows activity in Porto where there are two locomotive depots, at Contumil for broad gauge locomotives and at Boavista for the narrow gauge. In Contumil two ancient, diminutive 0-4-0T broad gauge locomotives, (No. 002 built by Hartmann in 1881, and No. 003, built by Cockerill in 1890) are used as shed pilots to move much larger locomotives on and off the turntable. On the narrow gauge, a 2-6-0T class built by Kessler in 1886 plays the same role at Boavista depot. This depot provides locomotives for an extensive network of local lines, providing urban, suburban and rural services between Porto, Povoa, Lousado and Famalicao, handled not only by these vintage 2-6-0T locomotives but also by larger, more modern classes such as the 2-8-2T class built by Henschel in 1931 and the 0-4-4-0T Mallet articulated class built by Henschel in 1905-08. Along some stretches the lines are dual gauge, with the narrow gauge rails positioned between the broad gauge rails.
The film concludes with views of trains travelling on the narrow gauge systems of Porto, Regua, Tua and Pochino where all these locomotives can be seen hauling trains, together with 2-4-6-0T articulated Mallet class locomotives, built by Henschel in 1911-23, which are mainly found on hilly routes. This part of the film is set to music inspired by the narrow gauge trains of Brazil.
This film is featured on the DVD "In the Days of Steam".
Vintage Port
Date of Film: 1998
16 Minutes

Places and Dates of Identifiable Locomotives:

Between Porto-Nine-Braga-Viana do Costelo (1970 and 1973): Class 4-6-0 293, Class 2-8-4T 0188 and 0185, Class 2-6-4T 075, Class 4-6-2 553;
Contumil depot (1970 and 1973): Class 0-4-0T 002, Class 2-6-4T 089, Class 0-4-0T 003;
Boavista (1973): Class 2-6-0T E86, E83, Class 2-8-2T E141;
Between Porto, Povoa, Lousado and Famalicao (1970 and 1973): Class 2-6-0T E83, E84 and E85, Class 0-4-4-0T E162 and E168.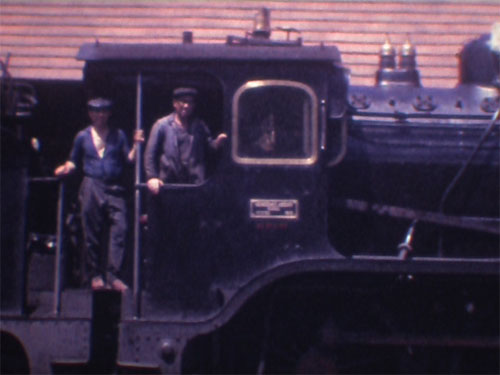 Views expressed by contributors to these webpages do not necessarily reflect the views of Steam2Music.