Browse our films of steam from around the world: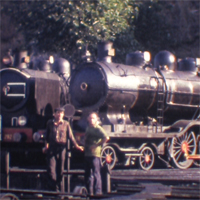 Une Journée
The film shows a wide variety of vintage steam locomotives, aged between 40 and 90 years old, still hard at work in northern Portugal in 1970 and 1973, mainly around Regua in the Douro Valley and around Porto.
The film begins in the cool early morning on Regua shed where broad gauge oil-fired 4-6-0 locomotives built by Henschel in 1910-1913 are being prepared for operation on the main line towards Barca d'Alva, alongside narrow gauge coal-fired 2-4-6-0T Mallet articulated locomotives built by Henschel in 1911-23 used on the secondary Corgo Line to Chaves. Meanwhile narrow gauge train movements take place at Povoa Station and Trinidade Station in Porto, performed by 2-6-0T class locomotives built by Kessler in 1886 and the more modern 2-8-2T class built by Henschel in 1931. Track repairs at Trinidade are taking place.
The film then shows passenger train operation later in the morning between Porto and Povoa, featuring local trains hauled by the 2-8-2T locomotives together with 0-4-4-0T Mallet articulated locomotives built by Henschel in 1905-08. A weak bridge near Vila do Conde required trains to cross at reduced speed.
In the heat of midday the pace of life slackens in the smoky atmospheres of Boavista shed in Porto and of Regua station yard, as the coal-fired narrow gauge locomotives undergo servicing. Shunting activities continue on the broad gauge, using 2-6-4T class locomotives built by Swiss Locomotive Works in 1916-20 and by Henschel in 1929. A 2-8-0 freight locomotive built by North British in 1921 departs on a track maintenance train, and passenger trains depart hauled by a 2-4-6-0T Mallet, for Chaves, and by a 4-6-0 locomotive, towards Pocinho and Barca d'Alva.
The afternoon scenes that follow show the scenic nature of the main line along the Douro Valley and of the secondary Corgo Line near Carathedo where the line twists and turns to climb out of the Douro Valley towards Vila Real. By 1973 shorter, more rapid passenger services had been introduced in an attempt to compete more effectively with bus services. On the line between Tua and Mirandela a pick-up freight train is shown heading back to Tua hauled by a 0-6-0T built by Kessler in 1889.
Finally, in the evening, Regua shed is shown once again as a four cylinder 4-6-0 locomotive built by Fives in 1903, fitted with De Glehn compound valve gear, leaves as light engine for Porto. This was the sole survivor of this class in 1970, possibly making its last journey from Regua before withdrawal from service.
This film is not yet featured on DVD.
Une Journée
Date of Film: 1998
15 Minutes

Places and Dates of Identifiable Locomotives:

Between Porto and Povoa: Class 2-8-2T E141, E142 and E144, Class 2-6-0T E84 and E101, Class 0-4-4-0T E163.

Regua: Class 0-4-0WT E1, Class 2-4-6-0T E207 and E214, Inside cylinder Class 4-6-0 281, 285 and 286, Class 2-6-4T 084, 093 and 094, Class 4-6-0 292 and 294, Class 2-8-0 712, Four cylinder De Glehn compound 4-6-0 268.

Between Regua, Tua and Mirandela: Class 4-6-0 292, Class 0-6-0T E52.
Views expressed by contributors to these webpages do not necessarily reflect the views of Steam2Music.
Selected Clips:
Morning in Regua and Porto, 1970/73
Smoke and Steam in Porto and Regua, 1970/73
The last De Glehn Compound departs, Evening in Regua, 1970