Township Travel
This film features commuter passenger travel on the railway line between Port Elizabeth and Uitenhage, which served the suburban township of New Brighton. These services were still using steam locomotives in 1977.
We see railway staff at Port Elizabeth waiting for the peak hour to begin, while the passengers enter the station - the whites using the main entranceway shown in the first scene, the non-whites (and the majority of passengers) using the side entrance. The coaches follow traditional British practice, having slam-doors and vacuum brakes, as illustrated in the film. The 15AR 4-8-2 class of steam locomotives used on this service were built by North British, Glasgow, and Beyer, Peacock & Co, Manchester.
The locomotive is coupled up and leaves as passengers rush to catch the train. After travelling through the industrial area, the train arrives at New Brighton station where most passengers disembark and walk back to their homes.
This film is featured on the DVD "In the Days of Steam".
Township Travel
Date of Film: 1983
6 Minutes

Places and Dates of Identifiable Locomotives:

No further information available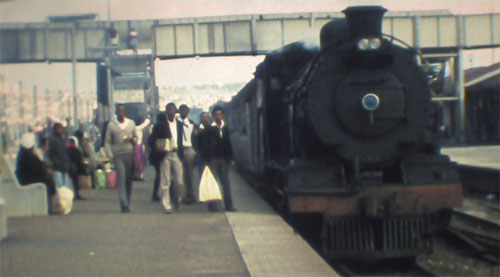 Views expressed by contributors to these webpages do not necessarily reflect the views of Steam2Music.