Browse our films of steam from around the world: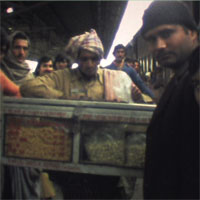 Station of Life
A view of life in December 1977 on an Indian railway station - Jullundur in the Punjab - and in a locomotive depot in Delhi. I was keen to see the great variety of human life that could reputedly be seen on Indian railway stations. Filming over the two days attracted a lot of attention from passengers who wanted to be filmed!
The first part of the film shows people who travel through or work on and around the busy station. A Class WW 0-6-2T locomotive, built in The Vulcan Foundry, Newton-Le-Willows, is shunting in the yard as Class WL 4-6-2 locomotives, built in the Chittaranjan Locomotive Works, Kolkata, arrive on passenger trains. Later we see Class HPS 4-6-0, No. 24467, built by The Vulcan Foundry and now preserved in the Indian National Railway Museum, depart on another passenger train. A national state of emergency has been declared and there are posters around the station campaigning against corruption and civil strife.
Then we see workers responsible for preparing the locomotives for service - turning them laboriously by hand on the turntable (Class CWD 2-8-2, supplied by the Canadian Locomotive Co, Kingston, is shown in the film), raking the fire (using the rocking grate fitted to Class WG 2-8-2, built at Chittaranjan), and loading coal using a typical steam crane, made by Thomas Smith & Sons of Rodley, Leeds. A Class SGC 0-6-0, built by North British/ Vulcan Foundry, is shunting in the yard. Women and children are sifting through the hot ash left behind, in search of unburnt coal, despite the risk of burnt hands and moving locos. Such is their station in life.
This film is featured on the DVD "In the Days of Steam".
Station of Life
Date of Film: 1982
12 Minutes

Places and Dates of Identifiable Locomotives:

No further information available

Views expressed by contributors to these webpages do not necessarily reflect the views of Steam2Music.