Railway Work in Moradabad
A view of people at work on maintenance and operations activities on a typical day in and around the steam locomotive depot in Moradabad, Uttar Pradesh, India in 1986. This large depot had a three-quarters roundhouse design and 43 roads radiating from the central turntable, which had to be rotated by hand. In early 1986, 81 locomotives were allocated to the shed, including WP 4-6-2 express passenger and WG 2-8-2 heavy freight classes.
The film begins early morning in Delhi station as a WP departs with the 56 express bound for Moradabad. We see a wide variety of maintenance tasks being performed in the depot workshop, on both WP and WG classes of locomotive, including chassis work (repairing piston rings, valve gear and axle boxes), and boiler work (casting lead joints of mudhole doors, cleaning the smokebox and refitting the steam pipe), plus other routine activities. The work is labour-intensive and manual in nature, and the working conditions are often quite hazardous.
We see people living on railway premises near the station, while locos wait to haul their trains. We journey on the footplate of a WP towards Lucknow (the 408 express from Ludhiana to Varanasi), passing platelayers and other trains. The train is several hours late and the driver and two firemen have to work hard to regain time. Despite the dirty working conditions, the footplate crew and running foreman wear smart, casual clothes rather than overalls.
The train comes to rest at the intermediate station of Bareilly where the locomotive is lubricated while monkeys come to drink water from the overhead gantry. Finally we return to the depot again where maintenance work continues, perhaps at a slower pace than earlier.
This film is featured on the DVD "In the Days of Steam".
Railway Work in Moradabad
Date of Film: 1994
13 Minutes

Places and Dates of Identifiable Locomotives:

No further information available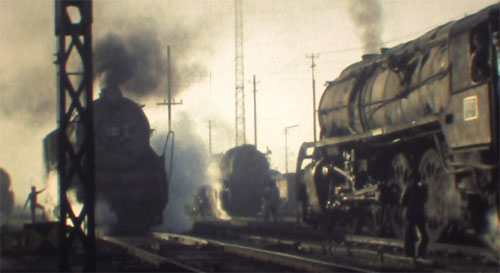 Views expressed by contributors to these webpages do not necessarily reflect the views of Steam2Music.