Nevers on the G String
The film shows 241.P compound class locomotives departing from the depot at Nevers in France and hauling heavy passenger trains (of over 600 tonnes) between Nevers and Moret (near Paris) in the Summer of 1968.
By this time these locomotives were probably the most powerful express passenger steam locomotives in regular service anywhere in the world, capable of producing 4,000 Indicated Horse Power, hauling 700-800 tonne passenger trains at 120 km/hour.
The film begins by showing a 241.P locomotive leaving the depot at Nevers. Then we see another member of the class 241.P.8, which has arrived from Clermont Ferrand in the south, carrying out a shunting manoeuvre at the station in order to increase the number of carriages for the journey to Moret.
This is followed by shots taken on the locomotive footplate and from the lineside, of express passenger trains from Nevers to Moret and return. The footplate shots show the precision with which these powerful locomotives are driven and fired (with coal mechanical stokers). With the regulator usually only 50-75% open the locomotives comfortably achieve their maximum permitted speed of 120 km/hour as shown on the Flaman speed recorder, allowing average start to stop speeds of over 100 km/hour ("even time" mile-a-minute running) between intermediate stops only about 45km (25-30 miles) apart.
Nevers on the G String
Date of Film: 1970
6 Minutes

Places and Dates of Identifiable Locomotives:

No further information available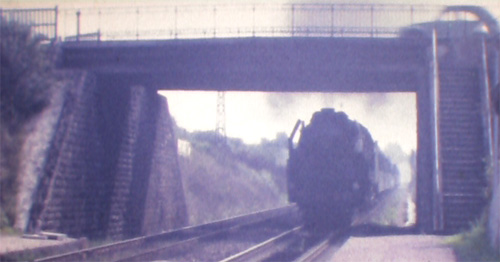 Views expressed by contributors to these webpages do not necessarily reflect the views of Steam2Music.