Lines Round Natal
This was filmed in and around Natal Province, South Africa, in the winter of 1975. It features South African Railways (SAR) Beyer-Garratt articulated steam locomotives: GEA, GMA series and GO 4-8-2+2-8-4 class steam locomotives on standard (3' 6") gauge lines, and NGG16 2-6-2+2-6-2 class on narrow (2') gauge lines. The GO class were built by Henschel in Kassel. The others were manufactured by Beyer, Peacock and Company, Manchester.
The film initially shows maintenance work in locomotive depots, mainly at Empangeni, but also at Breyton (in the neighbouring province of Mpumalanga, formerly Transvaal), Durban and Port Shepstone. In addition to the Beyer-Garratts, we see non-articulated classes such as, in Durban depot, H2 4-8-2T class (built by Dubbs, Glasgow); in Empageni depot, 14R 4-8-2 class (built by Robert Stephenson, Beyer Peacock and North British); in Breyton, 15AR 4-8-2 class (built by North British and Maffei), 15F 4-8-2 class (built by North British) and, in Port Shepstone depot, S2 0-8-0 class (built by Krupp).
We see GMA and GO Beyer-Garratts hauling freight on main lines in Natal and adjoining lines in Mpumalanga. We also see GEA and NGG16 locomotives on the branch lines of Eshowe and Umzinto-Donnybrook, respectively.
Then the film moves to the Mpumalanga coal fields where 4-8-2 locomotives (built by North British for Witbank and Transvaal Navigation Collieries) haul coal trains from the mines to the main lines. One train is banked by a 4-8-2T locomotive fitted with an auxiliary water tender.
A group of men shovel coal onto a GEA locomotive at Gingindlovu subdepot on the Eshowe branch. During this work we glance at main line freight operations near Empangeni (a GO Beyer-Garratt) and near Bloemfontein, in neighbouring Orange Free State Province, where 15F 4-8-2 and 25/25NC 4-8-4 classes (built by North British, Glasgow) are shown. Finally the GEA locomotive moves off, ready for another spell of work.
This film is featured on the DVD "In the Days of Steam".
Lines Round Natal
Date of Film: 2000
17 Minutes

Places and Dates of Identifiable Locomotives:

No further information available.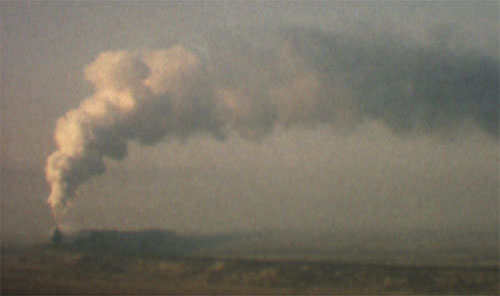 Views expressed by contributors to these webpages do not necessarily reflect the views of Steam2Music.