Browse our films of steam from around the world:

Happy End
This film shows main line steam operation between Osnabrück, Bremen and Hamburg in northern Germany in the summers of 1967 and 1968.
This line was one of the most important lines in Germany, providing the shortest link between the Ruhr industrial area and the port of Hamburg. It was known as the Rollbahn, or "Rolling Line" due to its constant use, day and night, by heavy freight and express passenger trains. Until electrification in 1968 it was mainly operated by oil-fired steam engines, capable of reliable operation with sustained high power output.
The film shows passenger train crews preparing for departures at Bremen and Osnabrück stations, and then passenger trains travelling towards and finally arriving at Hamburg Altona station. After a brief look at Bremen shed, featuring a Class 94 0-10-0T, passenger and freight trains around Osnabrück are shown hauled by locomotives of Class 01.10 4-6-2, Class 23 2-6-2, Class 41 Class 2-8-2, Class 44 2-10-0 and Class 50 2-10-0. The film concludes with a view of trains at speed, near Bohmte just north of Osnabrück.
This film is not yet featured on DVD.
Happy End
Date of Film: 1996
10 Minutes

Places and Dates of Identifiable Locomotives:

No further information is available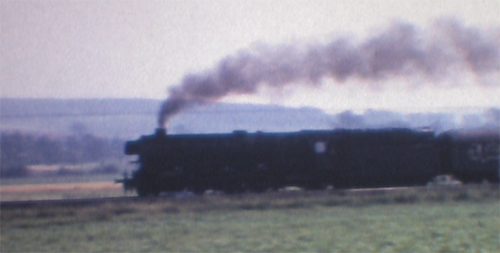 Views expressed by contributors to these webpages do not necessarily reflect the views of Steam2Music.
Selected Clips:
Travelling between Osnabrück, Bremen and Hamburg
Railways in Osnabrück
On the Rollbahn near Osnabrück