Browse our films of steam from around the world: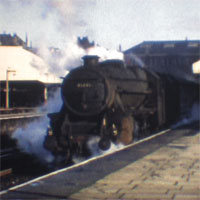 End of Steam Blues
This is a film made in 1967/68 showing scenes of the end of steam operation on British Railways. Lineside scenes in the north-west of England are featured at the beginning, including main line freight and passenger trains at Chinley, Bolton, Warrington, Manchester and Tebay hauled by LMS Class 5 4-6-0, LMS Class 8F 2-8-0, BR Britannia Class 4-6-2 and Class 9F 2-10-0 locomotives. Then shunting operations are shown at Liverpool Edge Hill marshalling yard.
The middle section shows scenes during the last few days of steam at Burnley, Blackburn, Todmorden, Copy Pit and other places in Lancashire. Many LMS Class 8F 2-8-0 locos have messages and figures chalked on them by railway enthusiasts. Numerous photographers are at the Rose Grove depot where locos are being removed en route to the scrap heap.
However some locomotives are destined for a longer life in preservation - the film concludes with scenes on the preserved Bluebell Line and at London Kings Cross where, respectively, SE&CR Class P and GWR 'Clun Castle' locomotives have found a new lease of life in preservation.
This film is featured on the DVD "Britain in the Days of Steam".
End of Steam Blues
Date of Film: 1969
16 Minutes

Places and Dates of Identifiable Locomotives:

Chinley (January 1968) 48107, 48327; Bolton (Spring? 1967?) 45445, 45260;
Warrington (Spring? 1967) 92224, 70034?; Tebay (August 1967) 45277;
Edge Hill (April 1968) 45284, 45287; Todmorden (April 1968) 48678, 48278;
Rose Grove 48393, 48448, 48115, 45382, 48323, 48348, 48410;
Lostock Hall (August 1968) 45156, 48393;
Bluebell Railway (February 1967) ex SE&CR 27 (now preserved);
Kings Cross (September/October 1967) ex GWR 7029 (now preserved)
Views expressed by contributors to these webpages do not necessarily reflect the views of Steam2Music.